Vital Resources for American Employers
Is my business at risk of legal claims arising from COVID-19?
Over 45,000 lawsuits are filed each business day in the United States, and reports indicate that more than half of all businesses have been sued at least once by an employee or ex-employee. As America reopens, some workplaces have become hot spots for the transmission of disease. In the new legal era of COVID-19 lawsuits, many labor lawyers are anticipating financial windfalls suing employers for the employer's alleged failure to identify and isolate workers who are likely contagious.
Employees who report to their places of employment are often exposed to an increased risk of contracting COVID-19, which may require medical treatment, including hospitalization. Employees who report to work while sick increase health and safety risks for themselves, their fellow employees, customers, and others with whom they come into contact. Each encounter is a potential exposure.
When these cases go to court, employers will be asked to produce documentation of their plans for preventing illness and injury in the workplace. Unfortunately, many businesses are not creating this documentation, and are handling COVID-19 risks too informally. They may verbally tell employees to report symptoms, and not to come to work if they are not feeling well, but they have no records to show affirmative steps taken to monitors the conditions of their employees on an ongoing basis.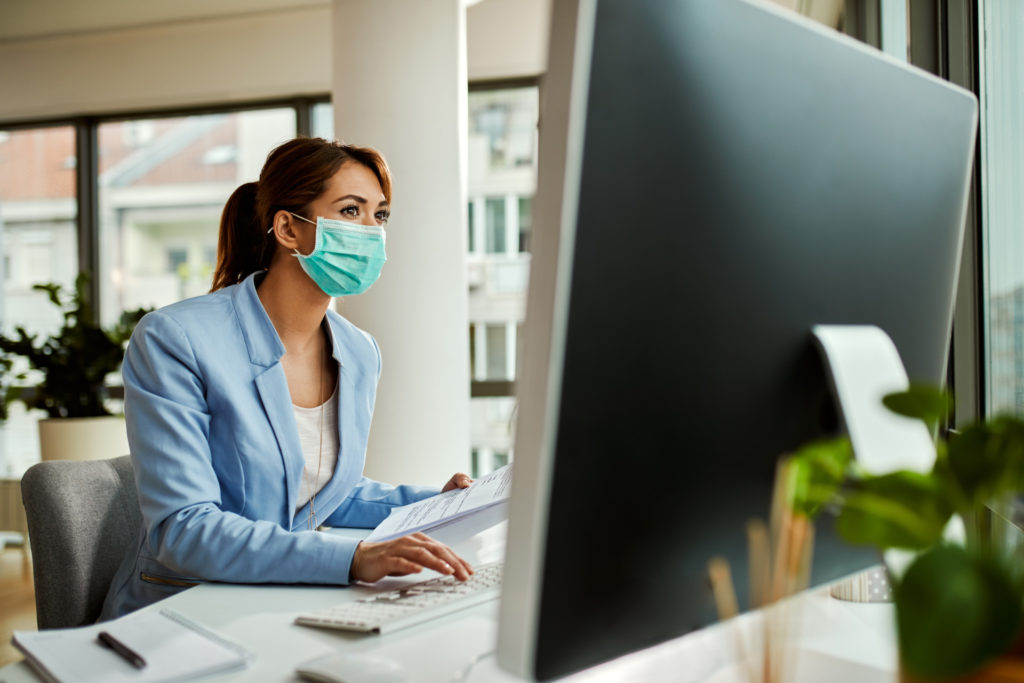 What law controls?
Labor law involves a blend of federal, state, and local law. Employers should have a general familiarity with each and understand which controls and when. It behooves employers to pay special attention to rules and regulations involving employee health, wage and hour requirements, discrimination, and privacy. Employers must know, understand, and follow these requirements, with help from your regional counsel. In the realm of COVID-19, the requirements involve issues such as signage, cleaning, Personal Protective Equipment (PPE) and others.
Employers should have policies and procedures in place for the prompt identification and isolation of sick people.
Employers can set up a simple system that will help protect them from legal issues arising from COVID-19. They should develop policies and procedures for the prompt identification and isolation of sick people in their workforce. Not only does this help reduce legal exposure, it will boost employee morale and therefore, their productivity. The coronavirus is very hazardous, so this should not be approached in a casual manner, especially for employers whose operations call for people to work together in groups.
An easy way to get started is to have a company meeting to lay out hygiene and social distancing rules after explaining to employees that their health and safety is the company's number one priority.  Explain the importance of team members working together toward the common goal of protecting each other, as well as the customers of the company.  Announce that each employee will be expected to sign an agreement to comply with the company's new illness prevention rules, and to submit to daily health screening before beginning work.  The health screenings will include taking temperatures with touchless thermometers.  This is an excellent opportunity to help establish a comfort level so employees will feel safe when they come to work. 
In response to COVID-19, the CDC has relaxed certain rules for employers.
Employers are ordinarily under tight restrictions about the types of medical information they can collect about their employees. Fortunately, the CDC has relaxed some of these rules in response to the COVID-19 pandemic, and now employers can inquire about subjects that were previously forbidden.
A simple first step.
To get your team on the same page with an attorney-drafted agreement for the employee to disclose relevant health information and commit to follow company rules for illness prevention, click here to read more.
Resources
List of Statewide Orders for Employee Temperature and Health Screenings
List of Statewide Orders for Wearing Masks
This material on this page is merely an overview of a specific developing situation. It is not intended to be, and should not be construed as, legal advice for any particular fact situation.