As the novel Coronavirus 2019 (COVID-19) pandemic reaches all corners of the globe, a health emergency of unprecedented scale has caused a worldwide crisis. As the virus contaminates residences and commercial buildings alike, restorers and cleaning companies have been called upon for preventative cleaning and to disinfect and sanitize these structures on an ever-shifting, urgent basis.
Our Standardized Coronavirus Service Contract Package is available for immediate download in easy-to-use MS WORD format.  It addresses the fact that the work area can be immediately re-contaminated after the application of disinfectant, but this does not absolve owners of the obligation to pay for the service.
Are you sending a message to your customers that could get you in trouble?  Cleaning professionals should use extreme care in choosing words to describe the service they intend to provide, especially when COVID-19 is a concern.  Contractors increase their liability exposure when they state or imply that they are "removing" the virus.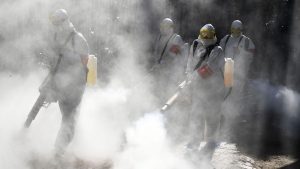 There is debate as to whether cleaning professionals should name their agreements "Coronavirus Disinfection Contracts," "Coronavirus Decontamination Agreements," "Coronavirus Decontamination Contracts," "Coronavirus Sanitization Contracts," "Coronavirus Cleaning Contracts," "Coronavirus Removal Agreements," and so on.  What's clear is that cleaning professionals need a quality coronavirus contract prepared by an expert.  The Standardized Coronavirus Service Contract Package prepared by Ed Cross and his team explains how the contractor's work is intended to mitigate the risk of transmission, but not completely eradicate the virus.  It documents the value proposition for the customer, while setting realistic expectations.  It includes a robust description of the goals of the work, and the limitations of the science.  It establishes that the customer is purchasing a process–not a specific result.
As the scientific community still learns how COVID-19 spreads, restorers and cleaning companies face a variety of unprecedented legal issues.  The IICRC has not published an industry standard for coronavirus disinfection, and we are aware of no specific licensing or certification required to perform this work.  There is controversy as to the true effectiveness of EPA-registered products used to address COVID-19.  Contractors should be transparent about their capabilities, and whether or not there will be evidence to confirm the success of the work.  A carefully drafted contract can address these challenges, protect the right to payment, and manage the service provider's liability in a way that is fair.  Many of the standard practices for drafting microbial remediation contracts do not apply here, and could cause considerable confusion and liability exposure.
The Standardized Contract is very thorough and foresees an array of different contingencies.  It includes multiple "check the box" options allowing the contractor to tailor the Contract to the circumstances of each job.  It sets out alternative legal obligations depending on whether an industrial hygienist is or is not involved in writing a coronavirus disinfection protocol.  It contains disclaimers and waivers that are modestly aggressive, but fair, given the state of the science.  It also contains provisions that fairly shift liability, seek indemnity, and so on.  We offer additional service to customize contracts to fit the needs of individual businesses.  (Please call for pricing.) The Contract is available for immediate download in MS Word format.  It comes with five pages of detailed guidance material and instructions about how to prepare the Contract, how to set reasonable expectations with the customer about the nature of the work, how to reach an agreement about the goals of the work and how to address the limitations of the technology in the interest of fairness to the contractor and the customer.
We are monitoring the state of the art for disinfection work, as well as the relevant business and legal developments.  As this new industry evolves, we will provide free updates to the contract and instructions, through December 31, 2020.  The Contract is based on California law, but can be easily modified for use elsewhere by a licensed attorney in your jurisdiction.  Please call us at 760 773-4002 if you intend to do this work outside California and we will help form your strategy.
Decades of research and litigation experience are behind the drafting of this robust Contract.  Hiring a law firm to create material this thorough would likely cost in excess of $2,500, but it is offered here for only $995, and your satisfaction is 100% guaranteed.  There is zero risk because if you are not completely satisfied for any reason, we will refund your money, in full.  No questions asked.
Please call 760 773-4002 if you have questions.  We are dedicated to the prosperity of the cleaning, restoration and bio-recovery industry.
A $2,500 value… all for only $995!